Axelero Reha in version for Rehabilitation
Treadmill Axelero Reha, model Axelero is a medical treadmill designed for rehabilitation. This
Treadmill Axelero Reha, model Axelero Reha is a medical treadmill designed for rehabilitation. This modern medical device is suitable for hospital and clinical use in Physiotherapy. Treadmill is operated by the control unit with LCD display.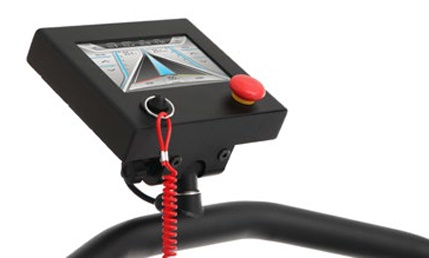 Functions:
start / stop
incline
speed
calories
distance
time
programs (MANUAL, DEFINED, USER)
Features:
system of gradual speed increase from 0,2 km/h to a preset value,
belt speed stabilization in the full drive load range,
smooth and quiet operation in the full belt speed range,
easily accessible safety switch which allows for switching the device and the drive off manually,
pediatric handlebars (option),
intuitive touch panel.
Technical data:
| | |
| --- | --- |
| Belt speed range [km/h]: | 0,2 to 25 |
| Belt speed control accuracy [km/h]: | 0,1 |
| Belt elevation angle range [%]: | 0-25 |
| Belt elevation angle adjustment accuracy [%]: | 0,5 |
| Length of the useable part of the belt [cm]: | 140 |
| Width of the useable part of the belt [cm]: | 52 |
| Width of the stationary rest area [cm]: | 10 |
| Maximum patient weight [kg]: | 200 |
| Power supply and consumption[V/Hz]: | 230/50 |
| Device weight [kg]: | 200 |
| Dimensions [cm]: | 217 x 73 x 135 |
| Dimensions for transport [cm]: | 220 x 75 x 60 |
---
Watch product presentation: